Depigmentation Treatment
Wake up to brighter, clearer, softer-looking skin. Natural plant extracts with high Bioflavonoid, with the help of nano encapsulated active substances, it purifies and produces rapid whitening effects, proven to be effective and safe in lightening of pigments and dark spots.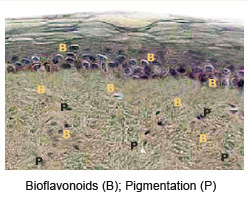 4 Special Features:


No side effects
Fast Whitening
Reduce pigmentation in cells and last longer
No 'rebound'
A more effective, faster and safer approach to skin whitening with no side effect. It is a natural plant extracts having high bioflavonoid content. Using the nano encapsulated active substance - a complex of flavonoid (liposomal serum). Effectively and accurately protect the active ingredients to reach the active site of melanin synthesis, inhibit the enzymatic activity of tyrosinase. It has fast whitening effects, and is certified that no side effects and harms to skin.
The histological examination was performed by the optical microscopy in white light. Effect of the product containing depigmentation treatment bioflavonoid on the enzymatic activity of tyrosinase on a skin explant (magnification x 400). Almost total inhibition of the enzymatic activity of tyrosinase.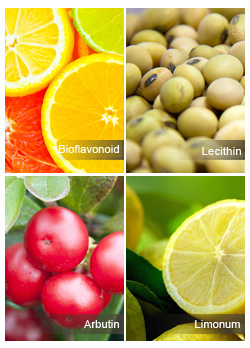 Bioflavonoid
Extracted plants from citrus family, colored plants, barks of pine trees that contain large amounts of bioflavonoid
Has the ultra strong anti-oxidized ability
Effectively inhibit against the activity of Tyrosine, achieving a perfectly toned and translucent skin.
It is highly valued and being studied in medical, biological and dermalogical studies
Lecithin
Lecithin is one of the important component for cells, it plays a role of nerve conduction and energy use during the growth of cells. It also helps in transportation of vitamin A, D, E, K, which is beneficial for brain blood vessels and liver.
Lemon Extract
Perking up dull looking complexion soften stubborn dead cell, suppress comedone, cleanse and purifying effect.
Alpha Arbutin
Extracted from saxifrage and hill pear, it can prevent activity of enzymes and reduce development of melanin, lighten dark spots and porcelainese skin.
Depigmentation Treatment Demo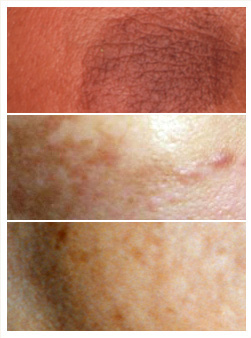 Depigmentation Treatment
is recommended for
Uneven skin tone
Pigmentation problems
Keratinocytes
Unsightly age spot