Dry Skin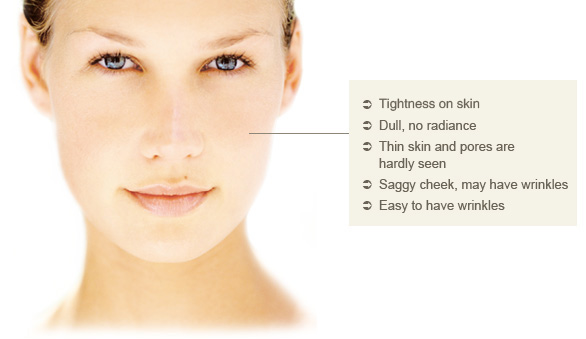 Dry skin is a skin type where there is extreme shortage of sebum and moisture on the epidermis. This may due to insufficient sebum secretion from sebaceous glands, or external factors such as weather and temperature. Dry skin tends to be uncomfortably tight, dull, saggy. Fine lines and crow feet will be found around eye contour. The skin is thin and pores are small and almost invisible. Skin sloughs off easily. Pigmentation and spots appear. Occasionally itchy.
This type of skin will become extremely tight and red followed by sloughing off and irritation when one is in an air-conditioned room, strong winds or experiencing drop of temperature, especially after contact with water.
Dry skin are to be given attentive care, supplement moisture and massage when necessary.

Supplement sebum with moisturizing cream
Promote metabolism