Sensitive Skin
Sensitive skin is a skin condition which needs special care. To people who has sensitive skin, the primary concern is the condition of the skin while the skin type (oily or dry) is relatively important.
3 Major Factors Reactive Sensitivity
Factors of Body Secretion

Stress, emotional changes, dealt a blow, dry skin, alcoholism, anti-biotics, drug (medical) injection, natural born sensitive body.

Natural /External Environment Effects

Change of climate, air pollution, pollen, seafood, micro-organism, animal hair, sensitive to metal

Chemical Factors

Chemical substance, wrong products used, skin renewal, soap, shampoo, perfume, preservatives, etc.
Types of Sensitive Skin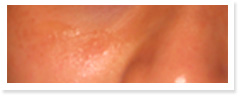 Couperose Skin
Congenital skin problem
Skin is usually tender and smooth, prone to redness, with broken capillaries (Not itchy or pain)
Stress, hormonal imbalance, coffee, smoking and alcohol will also causes the skin to become delicate

Absorption and excretion is slower than normal healthy skin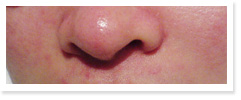 Sensitive (Reactive) Skin
Acquired skin problem
Known as "Primary Irritation" in Dermatology terms
Appear like normal skin, occasional redness occur, swelling; but tend to calm down after several hours. (Induction of various bacteria on skin)
Caused by unnoticeably irritation.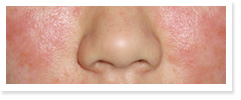 Hyper Sensitive Skin (Rosecea)
Acquired skin problem
Reactive skin and sensitive skin are related to our immune system
Skin are responsive to external irritation (red and swollen), worsen and become sensitive skin (red and swelling do not subside, resulting in inflammation and local eczema)
Inflammation is a result of skin's self-protection response against external irritation to get rid of pathogens.
Please consult a doctor/dermatologist for further advice for the following skin conditions
Swollen-red
Itchy
Painful
Skin feels tight and hot (with severe itchiness)
eczema with peeling and signs of bursting (like injured) seen on infected areas
appearance of multiple papules and patches of rashes.
This type of skin is suffering from inflammation and bacteria infection. Use of any skin care products or treatments should be stopped immediately.