SPA Therapy
By having body scrub, hydro therapy, body wrap and body massage with the essence from the mother nature, docte SPA therapy is a total serene indulgence for the body, mind and soul. As it helps to relax the peripheral nerves without interfering body's natural operation, it soothes the stress and tension, improves blood circulation, fats metabolism, drainage and detoxification. With all the above-mentioned, this SPA therapy is definitely an antidote for muscle aches and strains as well as a total relaxation and well-being for body and mind.
Ginkgo Olive Stone Spa

Body Scrub
Body Wrap

Ginkgo Olive Stone Relaxing Spa

Body Scrub
Body Wrap
Synergy Body Massage

Calming & Relaxation Body Treatment

Body Scrub
Body Wrap
Hydro Therapy
Synergy Body Massage

Orange Flower Spa

Hydro Therapy
Body Wrap
Synergy Body Massage

Orange Flower Relaxing Spa

Body Scrub
Hydro Therapy
Body Wrap
Synergy Body Massage

Detoxification Body Treatment

Body Scrub
Hydro Therapy
Body Wrap
Synergy Body Massage

Sensual Crystals Whitening Spa

Hydro Therapy
Body Wrap
Synergy Body Massage

Mineral Salts Reviving Spa
(for Normal Skin)

Body Scrub
Body Wrap
Synergy Body Massage

Mineral Salts Clarifying Spa
(for Oily Skin)

Body Scrub
Body Wrap
Synergy Body Massage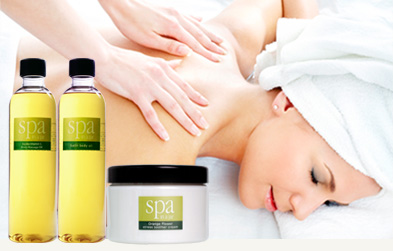 The modern city dwellers seldom exercise causing them to have poor adaptability towards temperature changes, poor blood circulation, and muscle aches. Massage can relieve the body peripheral nerves, relax the muscles, hence soothes stress and tension. It also helps to normalise blood circulation to strengthen energy.
Jojoba Vitamin C Body Massage Oil
Non greasy and easily penetrate. Can use to massage whole body, anti-oxygen effect. Reduce blood pressure and anti-bacteria. Whitening and hydrating effect for a glowing skin.
Satin Body Oil
Soothing scented fragrance uplift your senses, relaxes skin. Possess nourishing, combat skin dryness and aging. Non greasy.
Orange Flower Stress Soother Cream
Relieving sore muscles and aches. Improve skin's pigmentation, deeply nourishes and whitens. Promote total well-being with circulation and absorption ability enhanced.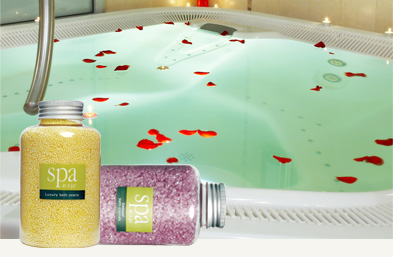 By dissolving the natural elements such as grass, root, wood and flora in the water, it does not only softens the water, the essential oils from the plants can produce beneficial stimulation, improve skin's thermal conductivity, enhance blood circulatin to achieve purifying effects. It can also improve a variety of symptoms.
Luxury Bath Pearls
ndulge in its invigorating sweet orange aroma, eliminates edema, anti-bacterial effects, promote circulation and build up natural anti-bodies. Natural calming fragrance, feel completely relaxed by balancing the central nerves, easing tension and relieving stress.
Sensual Bath Pearls
Immersing in this bath; lavender and other oganic's natural fragrance helps relaxes and promote serenity of the body and mind, regulate autonomic nerve. Possess whitening and superb anti-oxidant effects. Natural calming fragrance, relax and calm tiredness, feel pampered and relax.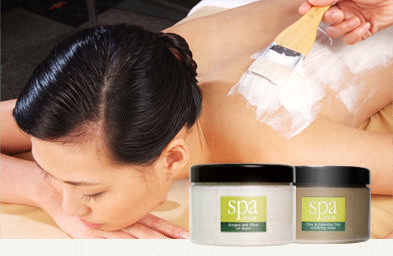 Herbal Treatment is a part of in-depth skin therapy. During the process of body wrapping, smooth blood flow is enabled; hence stimulates skin's absorption and cell activation, bringing out the softness and glow of your skin.
Clay & Essential Oil Purifying Mask
Substantial elements found in natural clay minerals possess detoxification abilities, deep cleansing and enhancing metabolism rate.
Ginkgo & Olive Oil Mask
Contains olive extracts which supplies large amount of oxygen to enhance cells vitality & improve circulation. Whitens skin and improves skin's immunity.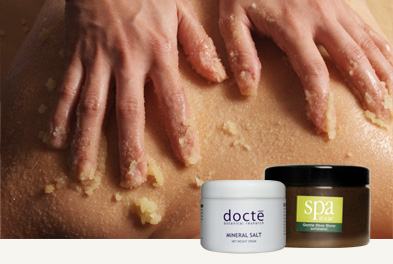 Olive Oil is suitable for all ages, it contain squalere which supply large amount of oxygen to the cells activating cell activities, enhancing self repair. Phenolic compound prevent cell oxidization, strengthen the tenacity of capillaries helps to retard aging. Rich in vitamin A, D, E, F, K and carotene effectively improve skin's elasticity and velvety.
Exfoliate the Horny Layer once every 2 weeks to effectively remove rough skin, vitalize skin and attaining a soft, healthy and lustrous skin.
Gentle Olive Stone Exfoliator
Sense-stimulating scrub that exhilarates your skin while gently eliminates roughness and detoxify. Promote renewal and circulation. Envelopes body for a velvety soft skin.
Mineral Salt
Lavish your tenderly-soft skin with luxurious moisture and nourishment; mineral salt from the 'dead sea'. Gently slough away dead surface skin, enhance metabolism and detoxification, effectively eliminate edema.