Body Care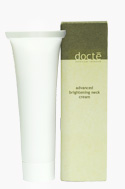 Advanced Brightening Neck Cream
Vitis Vinifera, Rosa Canina Fruit Extract, Arbutin, Achillea Millefolium Extract
Achillea Millefolium and arbutin able to lighten pigment, neck becomes firmer and softer that it won't become thickening, loose or out of shape.
Improve blood circulation and metabolism around the neck, strengthen the walls of the blood vessel, reduce swelling and bruising.
Neck that is aged rough, saggy, uneven skin tone and double chin edema.
Massage to and fro horizontally upward according to the skin's grain. Significant effects will be seen with continuously use daily.
Body Care Products