Purity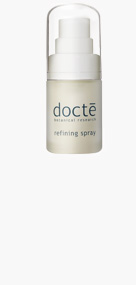 Refining Spray
Horse Chestnut, Yeast Extract, Biotin
Organic water soluble formula, easily penetrate deeper into the skin, ease remove of aged cells and refine pores for a smoother brighter skin.
Improve metabolism of lipodase. Prevent invasion of propionibacterium. Enhance decomposition of lipase to combat inflammation, anti-bacterial and red swollen skin.
Blackhead, comedone, open pores, oily or dry and dehydrated skin.
Can use day and night. Apply evenly over the face (oily skin) before treatment cream. Helps strengthen absorption of treatment cream's nutrient.
Purity Products