Face Care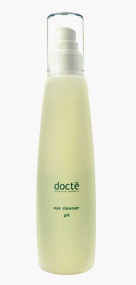 Eye Cleanser pH
Chomomilla Extract, Euphrasia Officinalis Extract, Hamamelis Virginiana
High density of nerve fibers and vascular around the eye area. Age and fatigue will slow down the lymphatic & circulatory system affecting the eye's daily secretion causing accumulation of waste that cause dull pigmentation & all kinds of eye problems.



Four main features

Remove daily eye secretion & enhance pigmentation breakdown.
Soften impurities/sebum accumulated in the hair follicles
Has the effect of soothing, moisturising & combat irritation.
Gentle, non greasy. Eyes feel comfortable and fresh.
Day and night. Wet cotton wool, gently wipe around the eye area. Then rinse with water.
Cleanse & Exfoliate Products
Eye Care Products