Age-Resilience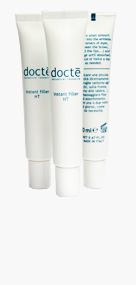 Instant Filler HT
Dipeptide Diaminobutyroyl, Palmitoyl Tripeptide-5, Jojoba Oil
Loose and wrinkled skin, with the passing of time and gravitational pull, the deeper those wrinkles become. This compact cream's active ingredients penetrate fast, the peptideredin promotes skin's natural wrinkle resistance mechanisms of stretch and contraction, enhancing skin's flexibility and avoiding new wrinkles from forming. Reduce superficial wrinkles and improve existing facial blemishes for a silky fuller skin.
All skin type except acne skin.
Cleanse face, apply directly onto face (especially between the eyebrow, around the lips, upper and lower nasolabial fold). Massage lightly with finger tip, wait for a few minutes, until totally absorb then apply other skin care products.
Age-Resilience Products