Soothing Sensation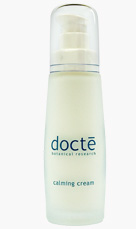 Calming Cream
Shea Butter, Acetyl Tetrapeptide-15, Spinosa
Protect sensitive skin, reduce swelling and redness, soothes skin, repair and strengthen keratinase, coordinate cell respiration and circulation.
New technologically advanced formula with Acetyl Tetrapeptide-15, this product can rapidly reduce and ease the skin's prickly burning sensation and discomfort feeling. It also protects the skin by preventing deterioration of sensitivity and enhancing the skin's resistance.
Dry, sensitive, weak keratin, red swollen, very sensitive skin.
Can be used several times a day.
Soothing Sensation Products